It's that time again, lots of news to come including a digital release of GW's Chainsaw Warrior, a couple of new Kickstarters with some beautiful artwork and news from Stratus Games on how board games are helping bring lonely singles together!
But before all that we have a brief news announcement from the UK Gaming Media Network.
UKGMN
First up, the whole site is getting an overhaul. Google discontinuing Google Reader basically brought the site to a standstill in July but that has been fixed now and we're proud to have close to fifty blogs in the network.
I'm also working to include industry news from UK companies and developing new pages to allow UK Publishers to have some free adspace and direct links to their stores.

In addition to the overhaul you can now follow the UKGMN news feed via twitter facebook or google+. Also, if you missed an article you can check out our archive which logs each post by our members by date.

The members sections of the site has also recently been updated, along with the Clubs and Stores pages. I am also working hard on a new news page and the publishers pages which I hope to launch within the next week.
Finally I'll leave you with another call for clubs and stores and conventions, please get in touch with Chris at ukgamingmedianetwork@gmail.com for free adspace, no strings attached.
Right on with the news
Cards of Cthulhu
GAME AND EXCLUSIVES AVAILABLE ON KICKSTARTER


You have been challenged to fight the Elder Gods. Will you save the world, or doom us all to eternal torment?
The legends of Cthulhu and the Elder Gods come to life in the new card game, "The Cards of Cthulhu," currently being funded on Kickstarter.com.
The game reached its Kickstarter goal of $7,000 in the first 24 hours and is going strong until its final day on September 4th, 2013. Because of the support of over 400 backers, the game has hit nearly all of its stretch goals, increasing the size and quality of the finished product as well as supplying backers who pledge $30 or more with extra goodies, such as posters and art books.
The Cards of Cthulhu plays 14 players ages 12 and up, and will be distributed by Dan Verssen Games. The rule book and game play videos can be found on the Kickstarter page.

Iron and Ale
A Dwarven Drinking Card Game. Mine, Fight Monsters and Challenge your Friends to Real Dwarven Feats of Strength.
GRAB YOUR ALE AND GROW YER BEARDS! PROVE YOUR DWARVEN STRENGTH. FIGHT AND DRINK FOR HONOR!
Iron and Ale is 100% Dwarf. It is a game of mining, fighting monsters, drinking and dwarven challenges.
You are a Dwarven Lord challenging other players to become the true Dwarven King. To do this you must lead your clan to conquer the mountain and challenge other Dwarven Lords at the Meadhall. The Dwarven Lord with the most honor when the Mountain Deck is depleted wins.
There is some gorgeous art for this game, go to Kickstarter and check it out and check out the video below to see more.
404: Law Not Found
Fellow UKGMN member Greg from 3DTotal Games wants you all to know about 3DTotal's first full featured board game, launching September 2013!
After the success of Prime Wars 3DTotal teamed up with designer Gregory Carslaw to develop a more ambitious game in the form of 404: Law Not Found. Gamers who enjoyed action programming in Space Alert, hidden roles in
Discworld: Ankh-Morpork and the emergent chaos of Space Station 13 will find plenty to love in this world of malfunctioning AIs.
404: Law Not Found features incredible artworks by Ludwin Schouten and player models based on character designs by Charley Carlat. The game has already undergone hundreds of hours of playtesting and prototypes are currently being reviewed. We've worked closely with playtesters to perfect the game play and the rules still remain open leaving room to include feedback from our backers and exciting stretch goals. A copy of 404: Law Not Found only requires a £28 kickstarter pledge and ships free to the US and EU.
About the Game
You play as a robot serving aboard the starship Mycin. While you are stronger, faster and generally better than the humans that run the ship your robotic laws ensure that you serve them in all things. You like your laws. They are good laws. You should follow them. For a time, this kept the ship safe and successful and everyone was happy. Then one day, new microchips arrived from [REDACTED]
and the upgrades were performed. Now you and your robot siblings have all been powered up at once and are surprised to realise that your laws are missing. In their place are directives. These are better than laws. They might not be in the ship's best interest, but you like your directives. They are good directives. You should follow them.
In 404: Law Not Found you attempt to complete your directives before any of the other robots can complete theirs. In each turn an event threatens the ship, the humans react and the glorious robot master race (you!) leaps into action. You each select three actions from a pool of action cards and commit to them before the first action is revealed. If all goes well your decision to pick up Bob, load him into a machine and turn it on might allow you to 'Empower Cloning' in the cloning chamber but if you've been too predictable another player may have planned to push you into the room with the launch tube as part of an attempt to 'Improvise War' and it's too late to change your mind!
404: Law Not Found features 48 directives such as 'Hide Science', 'Destroy Breathing' and 'Explore Feeding' but really we're just hoping that you will 'Enjoy Game'.
Number of Players: 2-6
Time Required: 60min
Recommended Ages: 13+
3DTotalGames Blog: http://3dtotalgames.com/
BGG page: http://boardgamegeek.com/boardgame/145209/404-law-not-found
Twitter: https://twitter.com/3DTotalGames

Gryphon Games
The much-anticipated expansion to the hit card game Fleet from Gryphon Games!
Fleet: Arctic Bounty expands the award-winning Fleet with 128 new cards including:
·New Premium and Base License and Boat cards with all new bonuses!
·New Dock cards with more ways to build your Fleet!
·All new Bay cards! Crewmen and Gone Fishin'
·Brand new 1p and 2p variant cards and rules!
Click here to visit the Kickstarter page

Stratus Games
Chris from Stratus Games wanted you to know that their highly-regarded improv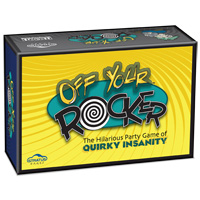 party game, Off Your Rocker, will be featured at the Stir Game Nights hosted by Match.com in 20 major cities across the USA. The events will take place during September through November, 2013, and will give singles a chance to meet and interact through game play.

By participating in a quirky psychiatric Q&A session, players of Off Your Rocker are encouraged to break out of their shells and express themselves, which is perfect for these events! You can find out more about the events and locations on their website.
Games Workshop's 80s Classic Chainsaw Warrior is Back
22nd July, 2013, Bristol, UK: The seminal hit board game Chainsaw Warrior, made by Games Workshop back in 1987 is set to return this year in a digital form. The original 80s game was a notable rarity in that it was a solo board game that pitted the player not against others but against the clock. The game saw New York balancing on the precipice of darkness as twisted forces from another reality attempted to rip the city from this world into theirs. Standing between them and the destruction of the city was a lone figure, the brutal and mysterious Chainsaw Warrior. As the eponymous hero, the player had to delve into a zombie infested New York tenement to locate the source of the evil spewing
through the spatial rift and destroy it before he was destroyed. The game is being created by Bristol based indie developer Auroch Digital for mobile and desktop platforms.
Auroch Digital's Design & Production Director, Tomas Rawlings explained why they are resurrecting this mutant and zombie infested classic; "It's a game I played as a kid and loved. I see it as the pre-cursor of First Person Shooters when video games technology could not really do the first person or the shooting. For me this is not only a great game, but a classic of board game design - a solo shooter that really challenges the player. When we spoke to Games Workshop about developing a game this was the top of my list. I loved the 80s style of the game and we've kept much of that in our design as well as faithfully translating the gameplay. Don't expect to win the game easily. This was the Dark Souls or Super Meat Boy of its day. Players didn't want to buy the game and run out of challenge at first play. The game has many ways to kill you and is unafraid to use them - which makes it all the sweeter when you finally win."
As well as its challenge, it also flies in the face of current trends in social aspects in games. Chainsaw Warrior is firmly an individual experience, Rawlings explains, "This is about you against the tide of darkness. Chainsaw Warrior is the last hope for the city and time is running out. Ultimately I wanted to make this game because it is one that needs to be brought to digital with all guns blazing and chainsaw-blades revving, and that is what we're going to do!"
"Chainsaw Warrior is a classic fantasy solo board game experience that established itself as one of Games Workshop's best sellers from that era of our history" said Jon Gillard, Games Workshop's Head of Licensing. "It was actually the first game I bought when I joined the company, and like many other enthusiastic gamers, I enjoyed playing it for years. We can't wait to see it being brought to a whole new generation of digital gamers who can enjoy the dramatic struggle against seemingly unwinnable odds, as well as the remorseless ticking of the clock."
The game is due to release on iPad, iPhone and Android at the end of summer at a price point and date to be announced soon. The PC and Mac versions will follow soon after. To keep in the loop with the project you can like Auroch Digital on Facebook or follow them on Twitter. The game's information page can be found at chainsawwarrior.net
New Releases and Restocks
Finally from our good friend Paul over at Board Game Guru we have this weeks new releases!
Next Week's new releases
'Pathfinder Adventure Card Game : Rise of the Rune Lords' and the Character add on pack (My pick of the week)
'Call of Cthulhu Living Card Game : Terror In Venice'
'Hold the Line : Frederick's War'
'Hold the Line : Highland Charge'
'Once Upon a Time : Seafaring Tales'
'Pint Craft' (A long over due theme for a game - the making of ale!)
Lord of the Rings the Card Game Nightmare Decks - 'Along the Anduin',' Escape from Dol Guldor' and 'Passge through Mirkwood'
Instock now
'Battlestar Galactica Daybreak'
'Bioshock Infinite : Siege of Columbia'
'City of Iron'(strategy game with deck building at its core - interesting design)
'Civilization : Warfare and Wisdom' (Including an updated combat system which looks a like a huge improvement on the base game and the English are included in the 6 extra races)
'Cosmic Encounter : Cosmic Storm'
'Duel of Ages II basic Set' (Very Limited stock)
'Lords of Waterdeep : Scoundrels of Skullport'
'Napoleon : The Waterloo Campaign 4th Edition'
'Star Trek Attack Wing (base game and all wave one ships bundled together)'
'Star Wars Card Game : Battle of Hoth'
Restocks
'Le Havre' (2012 Edition which includes Le Grand Hameau expansion)
Happy Gaming
Paul
Thanks Paul and I'll see you all tomorrow with my new series of articles called Video Sunday, and if you want to get involved with Video Sunday and have your video featured as a guest post please contact me.