This week's news takes us on a tour of the unusual to the sublime. Chaosmos from Mirror Box Games offers a unique play experience as players battle across space, fighting for planets they helped shape by placing cards into that planet's envelope. Check out the video, it'll all make sense. While UK designer Andrew Platt offers us something entirely different with Flippin' Fruit, a dice rolling game with some very cute animations and lots of dice rolling. While Academy Games brings a French classic Fief back to the table in a glorious new edition…
As well as that we have news from big names IELLO and Gryphon as they announce new and upcoming titles for the next few months. And as always we have a word from Paul about the releases for this week!
Mirror Box Games
The new board game Chaosmos, developed by independent publisher Mirror Box Games,
launched on Kickstarter.com in January and made $30,000 (75% of its goal) in the first three days. It is now completely funded and unlocking stretch goals.
On January 15, 2014 Mirror Box Games announced a new modular board upgrade as a stretch goal. This board can configured to the classic galaxy set up, or customized to millions of new configurations that allows for a unique board set up every time. When combined with optional planet effects tokens, the board layout allows for infinite replayability.
Chaosmos is a space-themed board game set in a collapsing universe, where players assume the roles of aliens on the hunt for a rare artefact that will save their race from impending doom.
Chaosmos features several innovative mechanics, including area-specific envelopes of cards, a closed card ecosystem without a draw or draft deck, and a time travel mechanic that can alter the ending. The game also has a unique victory goal, in which players spend the game preparing a strategy for acquiring one victory card.
Chaosmos first debuted at GAMA Trade Show in March 2013, and the creators have run extensive testing during Gen Con. Over 100 new players demoed the game at BGG Con in November.
The response from reviewers and fellow designers has been outstanding:
"The most fun I have ever had playing a board game." – The Nerdburger Podcast
"Lots of intrigue, surprises, and trickery!" – Bryan Pope (Designer, Mage Wars)
"I don't know that I've ever played a game like this before! The Ovoid... is awesome." – Tom Vasel
"It tells a story. It's gripping. It's something you talk about long after you've played it." – UndeadViking
"Chaosmos is a game about deceit, treachery, lying, backstabbing, all the other fun things you can think of, in an evening with your friends... The most fun really comes at the end of this game, where you start to realize what you thought you knew, you didn't know!" – CritsHappen
For more information on Chaosmos, check out www.mirrorboxgames.com.
IELLO
Zombie 15
Experience frantic 15-minute game sessions as you play a group of 2 to 4 teenagers running for their lives, while trying to discover the truth about the sudden outbreak that turned their parents, teachers and all of the other grown-ups into gruesome brain-eating monsters!
While other zombie games generally let you think calmly, discuss the problem, and plan through every situation, Zombie 15' simulates the stressful and frantic experience of being chased by zombies. The game is played in real-time, and begins at the start of the soundtrack. The players have to act fast and think even faster. Cooperation and tactics are decisive, but so is keeping a cool head.
In addition, Zombie 15' features an immersive universe, with an original and compelling storyline and awesome heroes.
See for yourself with this actual play video: the game starts slowly, but the tension and pace are really rising as the minutes go by.
You can back Zombie 15 right now on Kickstarter!
Also IELLO will be at the Nuremberg Toy Fair later this month. Please feel free to come and visit our booth to find out about our new and coming games:
PIÑA PIRATA is a clever family game by Donald X. Vaccarino, with animal pirates and wonderful artwork.
SHINOBI WAT-AAH! is an intense card game of combos and animal ninjas, with artwork by Naïade.
ZOMBIE 15' is a real-time, cooperative zombie game, featuring an intense soundtrack and 100+ miniatures!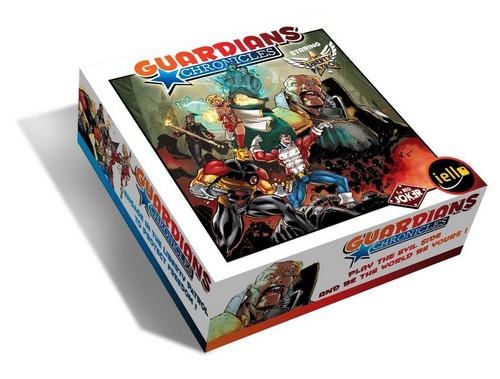 GUARDIANS' CHRONICLES is an epic board game opposing a team of super-heroes to their archenemy!

Flippin Fruit
Flippin' Fruit is a crazy competitive tabletop game of 12 sided dice, cards, fruit and fun that will test your grapes! For 2-4 Players.
"Flippin' Fruit" - The fruit rolling, card flipping dice game! With your help, we can get this juicy board game off the production lime and into homes all across the world! Roll and flip your way to victory by earning as many pips as you can, then pip all your opponents to the post and win!
The idea of the game is to score as many PIPS as you can by rolling and flipping fruit Dice to match the fruit on Smoothie Cards! Once you complete a Smoothie, you score its pips - simple! or it would be, if it wasn't for that Rotten Tomato throwing you off your game! You can download a PDF / text version of the full rules for FREE from our website: www.flippinfruit.co.uk or www.facebook.com/flippinfruit
Check out the kickstarter or watch the video below for more info.
Academy Games
Academy Games, the makers of 1775, Freedom: The Underground Railroad, and the award-winning Conflict of Heroes system, is launching a new Kick Starter. They are revamping and re-releasing a fine French game, "Fief, 1429."
Academy is upgrading the graphics (including their large mounted boards), bringing in some additional units, making the rules more clear...and adding a bit more player interaction (conflict, chaos, betrayal...the stuff gamers love!).
Fief will handle 3-6 players and take two hours or less to finish. (Academy is developing alterations for a two-player version).
The new art is about 85% done and the rules are in final tweaks. The Kick Starter succeeded in raising the base funding level in less that 24 hours, and has already unlocked some very cool Stretch Goals to make it all even better.
Eagle & Gryphon Games
New Games and Old Favorites Now Available on Pre-order!
We're starting the year off right by bringing in some great new titles to the Eagle-Gryphon line and welcoming back some old favourites! We've included an overview of all our latest pre-order titles as well as some reviews of the new games we will soon be carrying for you!
Pick-a-Polar Bear
The nanuks are determined not to be sitting "bears" due to global warming. Sourcing a supply of canned fish may be a way to survive the diminishing sea ice -- and if nothing else, it gives them a good reason to travel all the way from the North Pole to Germany to party down with their doggie friends there! Pick-a-Polar Bear features the same gameplay as Pick-a-Dog, but with two new variants! MSRP: $9.99
Click here for more information!
1-5 players | ages 8+ | 15 min.

Warage
Warage is the ultimate turn-based strategic card game: role play, strategy and deck building merged all together for endless adventures. The key mechanic of the game is that each Hero starts with 100 Hit Points (HP), and in order to play any card you have to pay its cost in HP. During your round, you can equip your Hero with the items you have in your hand, and you can attack your opponent(s) either through "Physical Attack" or "Magic Attack". Create your Hero by choosing one of the Class cards and one of the Race cards available and construct your deck (48+ cards) by selecting any of the existing cards. Wow! Deckbuilding and "RPG attitude" together... Welcome to Warage! MSRP: $49.99
Click here for more information!
2-4 players | ages 10+ | 15 min.
Age of Steam: Southern US and Western US Expansion
Steam-belching iron horses roar across the wild plains!
Age of Steam relives the era when pioneering U.S. railroads built the tracks that transformed America's economy. Competition is brutal, and the game usually goes to the player who plans most carefully.
The Southern US expansion map ranges from New Orleans to Raleigh and from Memphis to Jacksonville. 14 special Cotton goods cubes are included in this expansion focusing on the Old South. The Western US expansion has special rules involving the transcontinental network. Towns start with goods cubes that are lost when the town is urbanized. It includes the new swamp terrain. MSRP: $24.99
Click here for more information!
3-6 players | ages 14+ | 120 min.
I'm the Boss
I'm the Boss!

has every player trying to make a deal. Up to fifteen deals can be made over the course of the game, but every player cannot be part of every deal...so let the negotiations and the FUN begin! The action is lively and unscripted so make the best deal that you can! Once nine deals have been made, a die is rolled after each subsequent deal to determine if the game ends (with the odds increasing each time). Victory goes to whoever has the biggest bankroll. MSRP: $24.99
Click here for more information!
2-6 players | ages 12+ | 60 min.

Railways of the World
Revisit the early days of the locomotive (the venerable John Bull, the first locomotive to run in North America) and a vision (your Tycoon "mission" card). From there, build your budding railroad network into a vast empire. Connect New York to Chicago, earn the most money, develop bigger and faster locomotives and maybe even span North America and build the Transcontinental Railway! Multiple expansions featuring different maps are available. Railways of the World is the base game for the system and includes the engine placards, railroad tiles, train tokens, money, bonds, and other items that are needed in almost all the Railways of the World series.
MSRP: $79.99
Click here for more information!
2-6 players | ages 10+ | 120 min.
Review: Pick a Polar Bear -
Choose Your Furry Creature!
Review by deskovehry.com
Pick-a-Polar Bear is a simple card game, where everything depends on your observation skills and speed. According to your starting polar bear picture, you are trying to find his friends, which can always differ only in one attribute. But there is so many different looks, which seem similar, its easy to confuse them, when trying to be the quickest. Players, who make a mistake, will receive no points, while others will be granted reward according to number of collected cards. Therefore its better to be a little slower and collect them carefully. Game is really simple, you will teach it to others in two minutes and have fun with every player type out there. At the same time, the whole match is really quick and in case it seems too simple, you can use additional rules and cards to spice up things a little. And then, also details like player-card rotation (seating) can play an important role in deciding the winner. A simple idea makes Pick-a-Polar Bear into a great choice to entertain and suitable for any player group.
Read the full review here!
Wingman Session Report:
Warage by Jon Beall
Warage is a robust card game which plays quickly. I imagine most games of this would take about 30 minutes, particularly with more experienced players. I was particularly impressed by the diversity of the cards. Cards either hurt an opponant, or further boost defense of a hero. It would have been relatively easy to replicate a few different card types over and over in order to build a deck.
This is not what Warage is about. Warage has an immense volume of cards. For players (like myself) that really enjoy deck-sculpting there is a lot of meat here. I can imagine playing this game at lunch with co-workers, where each of us keep a pre-constructed battle deck with us. The game plays briskly and is highly competitive, but will reward careful deck construction.
This is not a game to introduce non-gamers to - there are a number of RPG mechanics which would take explanation for those not familiar with the hobby. Instead, this is a competitive and robust pre-constructed deck game where it is possible to play a quick and intense battle.
Read the full session report here on BGG!
Our friends at Boardgametravel.com are offering 10% off Cardboard & Sun 2014 when our newsletter subscribers use the code GECS14. We can't think of what could be better than board games and vacation! Check out their website for more information on this unique vacation event!
To purchase, please visit us at www.eaglegames.net
This Weeks New Releases
And finally here is our old pal from Board Game Guru, take it away Paul…
Arriving next week
'Beserk : War of the Realms' and 'Knights and Villains'
'Legacy : Testament of Duke de Crecy'
'A Game of Thrones: A Hidden Agenda'
'Hobbit Tales from the Green Dragon Inn'
'Hordes High Command: Savage Guardians'
'The Hobbit: Desolation of Smaug'
Restocks
'Cosmic Encounter', 'Red November',' Robo Rally'
'Cave Evil', 'Mounted game boards' and upgrade kits should be arriving within the next week or two. I will be emailing everyone who pre-ordered a copy with payment details. I should have a few left over which I will make available to order through the shop when they arrive.
More Steam Parks should arrive late next week.
Happy Gaming
Paul